Langmeier Backup
Thanks to these media, data backup becomes a success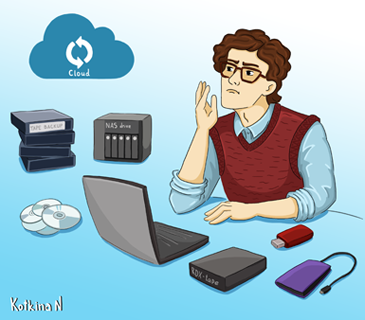 With Langmeier Backup you choose the backup medium that best suits your needs.
All memory contents on computers can be irretrievably lost due to viruses and defective hard drives. Therefore, you should think in time to make a meaningful data backup. The backup can be created in different ways. It is always important to select from the many backup media for digital data the one that best meets the specific requirements for a data backup. Here we give you valuable information for setting up your backup strategy, among other things.
Which backup medium to consider depends on many things
How long should the backed-up data be kept?
Which storage medium is suitable for the volume of data to be backed up?
How high must the security against unauthorized access be?
How high is the available budget?
How much time can you spare to create the backup?
As far as storage media is concerned, one has a choice of several options
Private or business backup using CDs, DVDs or BluRays
Backing up data to CDs, blank DVDs or BluRays is a backup method that is suitable for both personal and business use. However, if a very large volume of data is to be backed up, this variant is too costly. Data volumes of about 700 MB up to 54 GB of data can be stored per medium. Dual-layer blank DVDs offer 8.5 GB of storage capacity. With an ever-growing volume of data, an entire archive of media needs to be created.
Backing up to silver discs is most suitable when the data to be backed up does not exceed the volume of a single disc. Care should be taken when storing the discs. Direct sunlight can destroy the blanks and the data they contain. Dust and scratches also quickly make it impossible to read the data media. This backup medium is therefore not suitable for long-term archiving of data. CDs, DVDs or BluRays generally do not have the same shelf life as hard disks. For long-term storage, it is necessary to back up data to fresh CDs, DVDs or BluRays from time to time to avoid losing data.
In addition, there is also extra work that tends to be forgotten: the disc has to be inserted, inscribed and stored safely. And it has to be stored where it can be found again. If you don't do this dutifully, recovering the data can become a problem. It is also very easy for errors to occur when writing to the disc, rendering it unusable. Slower computers in particular have the problem that they suddenly can't keep up when writing to the disc and then "stumble". Therefore, it is best to "leave the computer alone" as soon as it starts writing to CD/DVD/BlueRay disc. After the backup, you should run an integrity check to ensure that all data has been backed up as required and is still readable.
Backing up personal or business data to an external hard drive
Somewhat more beneficial is the Create a backup to an external USB hard drive. This method is also suitable for personal and business data. Since very large amount of data can be stored on an external USB disk, system backup is also possible using this backup method. Thus, one is well secured with the external USB drive as a backup in case of a virus attack on the system or a defect of the internal hard drive.
Companies with multiple users often use network hard drives or network-attached storage servers. These are computers that are there to provide storage space for other computers. Langmeier Backup's ability to perform backup on network folders as a destination makes it easy to use such disks for backup as well.
Exclusively backup private data to USB flash drives
For the quick backup in between, USB stick backup is suitable. However, this data backup to a USB stick cannot be used for a full backup due to the limited data volume, but is ideal, for example, if you want to have a backup while traveling in case your laptop unexpectedly gives up the ghost.
Business data backup on RDX media
The RDX drives come in handy cartridges and a cartridge drive. RDX cartridges contain a hard drive specifically certified for data backup. Because of its ease of use and high security, this backup medium is probably best suited for SMBs and freelancers. The RDX drives are specifically designed for many years of operation, making them good and reliable backup media.
Exclusively business backup to magnetic tape
Exclusively business data storage on tape drive is common backup method. A high volume of data can be backed up on such magnetic tapes at an affordable price. These magnetic tapes have the advantage of being very durable - a tape once written can be read for up to 30 years. A second advantage of tape drives is that the individual media are inexpensive to purchase. However, the drive is very expensive and handling the tapes is a bit more complicated.
Langmeier Backup is the affordable and professional backup program alternative for tape backup or tape backup. Forget about the difficult handling of the backup pool of competing products. In Langmeier Backup, a lot of things are easier: just insert the tape, enable "erase destination" so that the backup program formats the tape the first time it is used, and then you are ready to go. Langmeier Backup manages the backup media fully automatically and keeps an index of what's on the tapes.
Langmeier Backup supports the following tape media:
DAT
DLT
SLR
DDS
QIC
LTO
AIT
MLR
TRAVAN
If your media is not supported, contact Langmeier Software Support.
Private or business backup to the Internet on FTP, NAS or Cloud
Backing up to the Internet to an FTP server or directly to the cloud seems to be the backup method of the future. Because data transfer rates over the Internet are still relatively small today, an initial full backup often takes several weeks. However, if the first backup has been made, or if the data to be backed up is manageable, then the backup to the Internet is quick. Backing up to the Internet will likely play an increased role in the future.
Click on the relevant links for more in-depth articles on backing up to FTP, NAS or Cloud.
Read these tips here to avoid pitfalls when backing up data to your local network.
Is a RAID system a data backup?
No This is because even RAID systems are not immune to virus attack or accidental data deletion. A backup must be created for such systems as well. Read more about the difference between RAID and backup in this article.
You can easily use all the backup media described in our backup software Langmeier Backup. Decide for yourself!
Langmeier Backup
Back up your data without effort
Further lookup: Backup Media, Data backup, Backup, Langmeier Backup, external hard drive, RAID, Cloud Backup, NAS Backup
Articles relevant to the topic
Which backup type is the best choice for my data?
Difference between file backup and image backup?
FAT32 or NTFS? Which format is better for backup?
This article covers:
backup media
Backup media
backup media
backup media