Magazine
What is a NAS? Our expert tips on NAS backup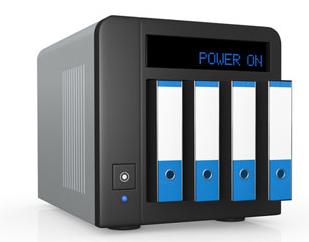 NAS systems have become a staple of data backup.
What is a NAS?
NAS storage (Network Attached Storage) is a centralized server that provides shared storage for all users belonging to the particular computer network.
Unlike NAS systems, the concept of "Direct Attached Storage" provides storage solutions for a single computer at a time. NAS storage systems and NAS hard drives have become a frequently used alternative to external hard drives for both commercial and residential networks.
NAS for SMB
Small and medium-sized businesses often use ready-made NAS systems such as those from Synology or QNAP as a replacement for file servers. We tested NAS storage systems in terms of NAS data backup.
NAS data security
Data is made available in a centralized manner via NAS systems. All users on a network can access the data stored on a NAS hard drive with the appropriate permission profile. For example, the participants in a project have immediate access to the data that has just been entered. However, fast data exchange is also possible across departments. User accounts with individually defined access rights can be set up for the clients belonging to a network. The assignment of individual user rights prevents unauthorized access to the data stock.
NAS data capacity
NAS systems allow large amounts of data to be stored and retrieved at any time. As storage capacity needs grow, NAS storage systems can be easily expanded into more complex solutions. Data storage on NAS drives is technically simple and at the same time effective. Data loss due to the failure of individual hard drives, which can have a significant economic impact on tradespeople and the self-employed, is largely eliminated by storing data on redundant drives.
It doesn't always have to be complicated
This is of great importance for medical practices or for law firms, for example, which have to comply with retention periods for certain business transactions. A particular advantage of NAS systems is their straightforward configuration and user-friendly operation. NAS drives of the latest generation can be installed with a few simple steps, even by PC novices. A NAS disk is permanently available at all end devices as soon as it is connected to a network. A manual connection to individual end devices is – unlike external hard drives – not required.
Conclusion: NAS are powerful and straightforward backup media
NAS storage has proven to be a powerful and straightforward storage media for small business networks as well as home networks. Particularly beneficial to SMBs are the expandability of a NAS system, fast access to a shared data set that can be controlled by user profiles, and effective data loss protection through redundant data storage.
Use NAS for your company's data backup as well
The destination of your NAS backup is configured here as a protected Samba/UNC network path. To further enhance security, you can append a "$"character to the network volume share name. Then the share name will remain hidden on the network and no one will be able to track it down by searching through all the network paths in an organization.
It's best not to set up network drives at all, but only access the corporate NAS via UNC path for NAS backup.
NAS backup with Langmeier Backup in concrete terms
Create a folder on the NAS where the user from which the backup is launched has write permissions. User interfaces vary depending on which NAS an organization is using. In the target path, enter the IP address with share so that the computer will definitely find the folder: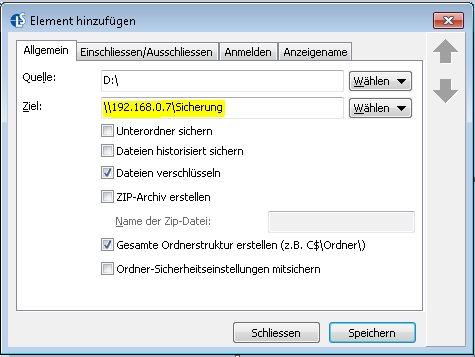 After this step is complete, there are two ways that the backup program Langmeier Backup logs onto the NAS. We have attached a screenshot for both options for your convenience:
Logging in to the service the administrator to run Langmeier Backup with a user who has the necessary NAS write permissions:
If you set up the NAS so that one must log in before backing up, they can enter the user in the "Log in" tab:
Here you can find even more detailed explanations for backing up data to the network.
Langmeier Backup
Back up your data without effort
Further lookup: NAS Backup, Backup, Data backup, Langmeier Backup, Network Backup, Network Backup
Articles relevant to the topic
Which backup type is the best choice for my data?
Difference between file backup and image backup?
FAT32 or NTFS? Which format is better for backup?
This article covers:
backup to NAS