How secure is cloud backup to the public cloud?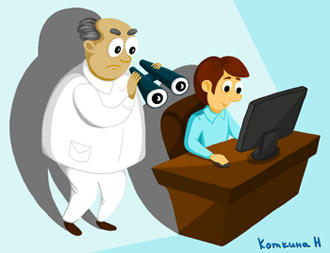 Giulio Alighieri:
«All

document

s in the public cloud are

deeply

analyzed.»
Many individuals are increasingly using online services such as OneDrive, Dropbox, Google Drive, etc. These services allow data to be stored online and then edited or accessed from other accesses – as well. Access is via a web browser (Internet Explorer, Safari or Firefox), proprietary client applications or apps.
Also Langmeier Backup supports cloud backup to these online services. However, these online backup services do not replace local data backup, but are only possible as an addition to local data backup. Those who store their data via cloud backup on the Internet must ensure that there is always still a copy locally. However, such data backups are only intended for courageous private users and are certainly not recommended for companies. For companies, online backup services such as OwnCloud are more advisable. OwnCloud is a secure alternative to public cloud services such as Microsoft OneDrive (formerly SkyDrive), Dropbox and Google Drive. Instead of entrusting your own data to third-party providers, in ownCloud you set up a private server that acts as cloud storage and can be accessed on the go. For security, the server can encrypt the files after they are uploaded, so they can only be viewed or edited using your own password.
Using cloud storage as online backup storage is dangerous
Cloud Privacy: Backing up data to online services like Google Drive is dangerous. The latest findings show the following: Anyone who stores documents and files on Google Drive may not be able to access them later if they are blocked by Google for "violating Google's terms of use." This can happen in principle with any document, and to date there is no way for users to access such locked documents again afterwards.
Giulio Alighieri, a Swiss privacy consultant, says: "I see this as another weighty drawback to using the public cloud. First, this shows how deeply all our uploaded documents are analyzed by Google. And second, users can never be sure which documents Google will once block. It's quite possible that Google will also lock all heavily encrypted files in the future - their content cannot be analyzed and thus violates the terms of service."
A similar case to this can be found here. The exact error text when accessing the file in Google Drive and Google Docs reads, "You cannot access this content because it violates our Terms of Service. For more information on this topic, please see the Google Drive Help."
For brave home users only: back up data to the public cloud with Langmeier Backup
For this reason, we recommend cloud backup to such online services only for brave private users, but this should not be considered under any circumstances in the business sector. If you still dare to do it, you can set up the backup with Langmeier Backup as follows:
Use as a backup destination simply the Google/One-Drive or Dropbox folder. These will then take care of a transfer to the cloud.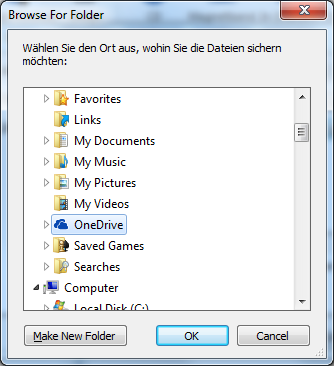 The job then looks like this: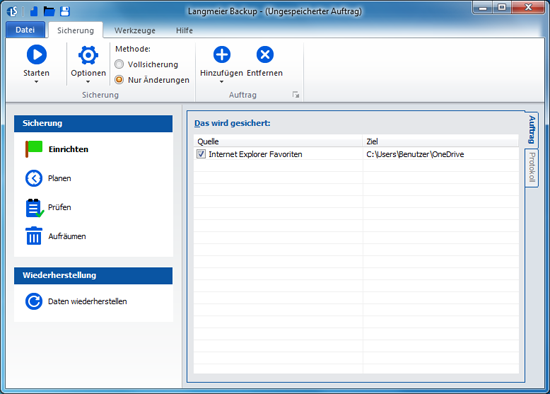 Once the file has been synced with the backup folder in the cloud, a green check mark will appear in front of the file name in Windows Explorer.
Save data automatically
Protect all your files.
Further lookup: Backup, Cloud Backup, Data backup
Articles relevant to the topic
Langmeier Backup Version 10 is here
FAT32 or NTFS? Which format is better for backup?
How to back up your hard drive properly and not forget anything
This article covers:
Backup to Online Services
Backup to the Public Cloud
Cloud Online Services
Google Drive