Langmeier Backup
Place 1: Langmeier Backup is once again the network winner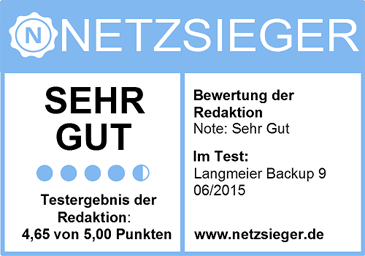 Langmeier Backup again convinces on all sides and becomes net winner!
The backup software "Langmeier Backup" from Langmeier has once again become test winner. "This reliable backup software backs up all data from Windows systems with Swiss precision and also makes restoring child's play," judged the experts from Netzsieger, an independent comparison portal. Overall, they gave the software 4.65 points out of a possible 5.

In its third and revised edition, the backup program from the Swiss software manufacturer impresses above all with its wide range of functions and high ease of use. All important features for backing up and restoring data have been optimized in this version. Alternative storage locations can also be selected. For private users, the "Professional" version offers not only the necessary tools for data backup, but above all a self-explanatory user interface. The "Business" and "Server" versions are aimed at smaller companies and server environments.


User-friendliness at the forefront

The backup program was mainly convincing due to its high level of user-friendliness. The clearly laid out menu guides even newcomers quickly and easily to the data backup configurator, which can be used to set the schedule and intervals for automatic backups with just a few clicks. A single click on the desktop icon starts the backup immediately. Also, thanks to bootable emergency backups, already infected systems can be repaired and lost files restored in the process. The recovery wizard helps with data recovery. Here, individual selected files can also be restored - without any software at all. The software received 4.8 out of 5 points for ease of use.


All in all

4.75 points were awarded for the backup software's wide range of functions. Even the latest version of "Langmeier Backup" impresses with its numerous features. In addition to complete system backups, drive images can also be created. The "Business" version can also create zip-compressed and encrypted backups, and the "Server" version can create backups of both physical and virtual Windows servers. The only shortcoming in the entire test: data compression is not possible in the "Professional" version.

The test also praised the smooth running of the backup process. While the backup was being created in the background, smooth PC operation was possible. Langmeier Backup" also avoided annoying data waste. This is because the Swiss backup program removes all files that were deleted from the original data medium. In addition, contacts, pictures, media files or browser favorites can be specifically backed up. Another plus point: 1-to-1 data backup.

All versions of the backup software are available in German. In case of questions, Langmeier Software GmbH offers a solid customer service with telephone hotline at German landline prices, user forum and e-mail support. Interested parties can also test"Langmeier Backup" for 30 days free of charge and without obligation.

Langmeier Backup
Back up your data without effort
Further lookup: Langmeier Backup, Data backup, Press, Test
Articles relevant to the topic
Which backup type is the best choice for my data?
Difference between file backup and image backup?
FAT32 or NTFS? Which format is better for backup?
This article covers:
Network Winner Langmeier Backup
Network Winner 1st Place
Langmeier Backup in the press
Langmeier Backup is net winner