Langmeier Software Magazine
Smartly Designing IT Setup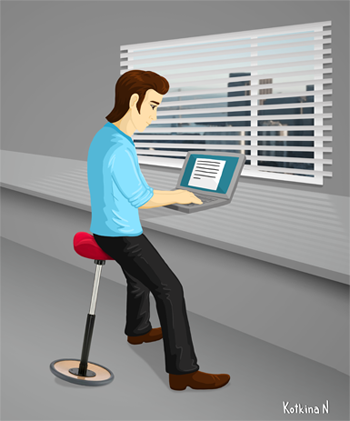 A smart office design keeps the modern man fit and healthy.
Computers and the Internet have long been taken for granted. This makes it all the more surprising that there are still offices, workshops and home offices with PCs whose computers, monitors, printers and Internet connections offer the latest technology, but where IT furniture is concerned, the cost-cutting measures are clear to see. However, the wrong attitude in the choice of IT furnishings is only recognized when the consequences occur. And these can be very different. From back pain and associated work to disabilities in daily work and associated loss of income.

IT furniture is a good partner for success

When choosing IT equipment, it is first important to determine for what purposes computers and Internet are needed. A car repair shop, for example, has different requirements for IT furniture than a woodworking company or an office. But also the PC workstation in the home office should meet the professional requirements of an IT facility similar to the office.

Ergonomics at work

Actually an old hat, you would think, because healthy office furniture are no longer a novelty. Unfortunately, reality paints a different picture, one that has nothing to do with healthy office furniture. With the right combination of swivel chair, computer desk and daylight, an excellent IT workstation can be created easily and quickly. The rules apply equally to the office, workshop and home office.

What matters in a swivel chair

Movement is the central element, even when working with a PC while sitting. Poor swivel chairs do not allow the spine to move. At the same time, this movement is important in order to provide the spine with sufficient blood flow. A rigid posture paralyses blood circulation and leads to serious back pain. Many manufacturers of office furniture offer swivel chairs whose backrests can be moved independently of the seat surface – so does the company KAISER+KRAFT. So even when sitting, you can move your spine by rocking slightly. The light rocking movements are quite sufficient to sufficiently circulate the spine.

Despite all the technology, you should still not refrain from taking a break in between and move a little. Especially simple exercises to relax the back and neck muscles are very helpful, such as this relaxation exercise here on fem.com.

What the screen has to do with uncomfortable neck pain

If you sit on the right chair, you should next adjust the screen ergonomically correct. Here, the upper edge of the screen should be at eye level when the body is in an upright position. Anyone who works a lot with a laptop regularly adopts an incorrect posture. A stand that brings the laptop screen to the correct height can help here. With an external keyboard and mouse, the laptop can then be used for longer periods of time without getting a painful neck.

The workplace in the right light

Daylight is often in competition with the light of the monitor. If the workstation is poorly aligned, daylight blinds the eyes and the monitor is difficult to read. This strains concentration and leads to pain. Either change the workplace until the eyes are no longer dazzled, or if this is not possible, darken the windows until comfortable working is possible.

Technical infrastructure today and tomorrow

Anyone setting up an IT workplace should also consider the technical infrastructure. Above all, electrical connections are important, of which experience shows that you can never have enough. If possible, you should also plan for cable tunnels, which make it easy to wire up devices later and hide the cables from view. After all, an IT workstation should not only be functional and ergonomically correct, but also give a neat impression.
aBusiness jetzt 14 Tage lang kostenlos testen
About the Author
Urs Langmeier
, Founder and CEO of Langmeier Software
Articles relevant to the topic
FAT32 or NTFS? Which format is better for backup?
Difference between file backup and image backup?
Langmeier Backup Version 10 is here