SME
Backup in the Enterprise: Restore tests without errors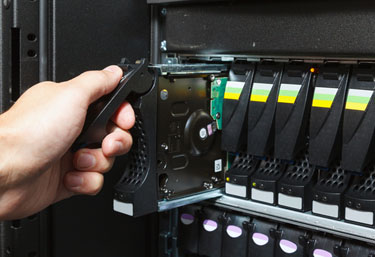 Regular restore tests are the be-all and end-all of backing up data.
When the topic of backup is brought up in companies, most managers feel they are well prepared. The importance of backing up data is not in doubt, and the protocols for performing regular backups are appropriately sophisticated. But when it comes to recovery, there is often a lack of understanding. Very few companies think about how to perform a recovery. It is assumed that data backup is the most important step. However, this is wrong, because the goal of every backup is to restore the data in the event of a disaster. But a successful backup and a successful recovery are not the same thing.

Backup is only half the battle

Because companies can expect serious losses and difficulties when data is lost, a lot of effort is put into a conscientious and regular backup. However, backing up data is only half the battle. Testing a restore is usually left out due to time constraints. One relies on the fact that a recovery will somehow succeed due to the regular data backup. In fact, companies are usually able to reconstruct their data from some existing backup source. But if the most recent backup is corrupted, the only option is to fall back on older data that is no longer current. Depending on the industry, it can make a big difference whether you can restore yesterday's data or have to go back to last week's data. There are industries where restoring to the previous day's data can lead to losses because data sets change hourly.

Planning backups conscientiously

It is not enough to rely on conscientious backups. The reason for not performing backup tests is almost always the same: Lack of time or lack of skilled personnel. While each department implements its backups according to fixed plans, there is supposed to be no room for the most important step, the verification of the recovery? A strategy that can take revenge at the latest with the next data loss. The management of every company should be aware of this problem and take appropriate precautions. «Backup testing should be established as a process in companies», says Marcel Binder from BIG IT Systems GmbH. Because recovery should not be neglected. A first step is to examine the requirements for recovery. Few companies think about how quickly a restore must be actionable in the event of a crisis.

Simple Checklist Helps Restore Test

The solution to the problem is as simple as it is compelling: in the same way that backup plans and associated protocols are developed, a company must also develop a recovery plan. This includes the random recovery of data from the most recent backup inventory. The personnel responsible for the recovery should regularly work through a data backup checklist in which, on the one hand, the execution of the recovery test is logged and, on the other hand, in which possible errors that occurred during this process are recorded. The minimum requirement for this should be a check of the backup logs of the current backup and a random recovery test. As a simple aid for our readers, we have developed a corresponding checklist that you can download at the end of the article. It is important to perform the restore test as regularly and conscientiously as the backup itself. Because copies of data that cannot be restored are of no use at all in an emergency.

Documents:



Checklist Backup
Save data automatically
Protect all your files.
Further lookup: Restore data, Restore, Backup
Articles relevant to the topic
Langmeier Backup Version 10 is here
FAT32 or NTFS? Which format is better for backup?
How to back up your hard drive properly and not forget anything
This article covers:
backup test
Backup & Recovery
Backup is only half the battle
Recovery Checklist