No data loss at remote sites thanks to these tips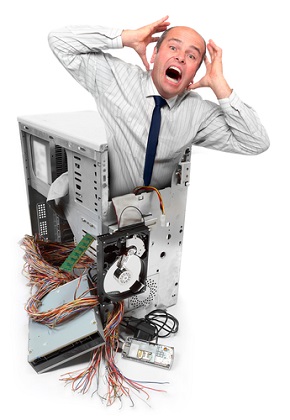 A good data backup concept protects against frustration!
Backing up data at remote locations is a growing challenge for SMBs and large enterprises. The increasing mobility of employees and the wide distribution of data within the company exacerbate the problem. The loss of mobile devices can lead to the loss of valuable data. Investing in an efficient backup system avoids considerable costs and productivity losses due to data loss
What is the most appropriate data backup method?
In addition to backing up data to local storage media, backup to a central computer can also be considered. In addition, cloud services can be used to back up data located at remote sites.
The most appropriate backup method is to back up data to a central computer
Thedecentralized data backup enables local access, so that the time required for data recovery is reduced. On the other hand, professional supervision of local backups proves difficult given a limited number of IT professionals. The systematic execution of local data backups can hardly be ensured, especially when there are numerous local backup locations.
Therefore, a centralized data backup is preferable, in which a company's IT organization decides on the type, scope and timing of a data backup. Data files can be copied and backed up multiple times a day. IT specialists are only needed at the central computer location with this solution, unless special IT problems occur at remote locations. Because of company-wide standardized technology, data restores are usually uncomplicated. However, a centralized backup system requires a large investment in software and hardware at the remote sites. In addition, if endpoints are not active, data backup can be delayed, resulting in a loss of efficiency
Remote data can also be backed up directly to a private or public cloud. With an external copy of the data stock, the costs for IT specialists - who would otherwise have to be kept locally or centrally - are reduced."Hybrid" cloud services initially copy and store data stocks locally before moving them to the cloud after a certain period of time. Hybrid backups thus enable local recovery - at least for a certain period of time - and thus combine the advantages of central and local data backup systems. However, cloud solutions involve a loss of control by the data-transferring company, making the selection of a reliable cloud provider of particular importance.
Optimizing data protection with Langmeier Backup
The software tool Langmeier Backup combines the advantages of different data backup systems by enabling SMEs and large companies to back up data (located on both virtual and physical Windows servers) in real time to all common storage media such as hard disk, tape or network-attached storage. In addition, Langmeier Backup backs up encrypted to public cloud storage such as Microsoft SkyDrive or Google Drive. Langmeier Backup has a flexibly adjustable scheduler that ensures data backups during ongoing IT operations and, if desired, at minute intervals. In the event of software problems or virus infestation, a quick restoration of data is guaranteed. The backup administrator receives an up-to-date overview of performed backups through centralized e-mail logs.
Further lookup: Data backup, Backup, Data loss, Data Security, Cloud, Langmeier Backup
Articles relevant to the topic
Langmeier Backup Version 10 is here
FAT32 or NTFS? Which format is better for backup?
How to back up your hard drive properly and not forget anything