10 years of Langmeier Backup: interview with Urs Langmeier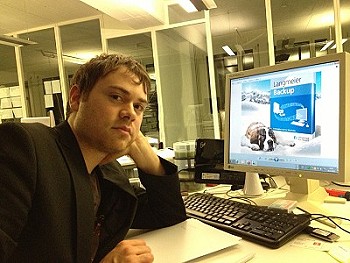 Urs Langmeier, founder and developer of Langmeier Backup
Sebastian Müller: Langmeier Backup celebrates its tenth birthday this month. Urs, you are both the CEO and co-developer of Langmeier Backup. Who gave you the idea to program a software for data backup?
Urs Langmeier: A customer at the electronics store. He asked me to buy him a data backup software and set it up for him. But we only had Norton Ghost at the time, and it couldn't backup individual files. So I got to work and programmed this tool, Langmeier Backup.
You named it after yourself. Is that for a reason?
Norton, Kaspersky, McAfee, all did the same thing. Because of the name, everyone now knows that it is a software from the German-speaking countries. That's an advantage after all.
What was your most impressive moment in programming?
The first time I turned on a computer, a C64. To run a program, there was a command in the manual: Load "PROGRAM NAME", 8. I entered this command about 50 times like this but it wouldn't work. Until I noticed that "PROGRAM NAME" had to be replaced with the actual program name. That was the AHA effect with which I then immediately learned programming and from then on it was just a matter of writing efficient programs.
You then set about programming LaOS - can you tell us a bit about it?
LaOS stood for Langmeier Operating System and was something like a cross between MS DOS and Windows 3.1. It wasn't an actual operating system but it provided a graphical interface for MS DOS with many standalone software applications such as graphics, ERP and animation programs, music programs, various games and tools. Among QBasic developers at that time it was just standard to do something like that. I programmed many applications for LaOS myself and a small modest group of programmers joined me and also programmed applications for LaOS. But then it was never enough for the breakthrough - I guess we were just too late to the market at that time.
Your breakthrough came with Langmeier Backup. Was there a particular moment when you thought "I'm going to make Langmeier Backup a big software"?
Yes - and in doing so, it has always amazed me how many people underestimate the software market. But if you look at IDC's statistics, you know that the storage market we're in is a multi-billion business. Why shouldn't we be able to get a decent slice of that pie? We have the software. What we need now are the right people who are good at cutting the cake: we need exceptionally good sales and channel people with experience in our field. People who think holistically and big. Because to achieve great things, you have to be able to think big. And you have to know where to pull the levers to turn something small into something big.
Do you know what to do?

Do you think there is still a lot of room for improvement at Langmeier Backup? Where could they still be?

A software can never be completely developed. I needed two years in the beginning until I said: now I can stand behind the software. If you ever looked at my first software releases, you might wonder why I sold so many software licenses from day one. In 10 years, we'll be saying the same thing about our current release.

What are your plans for the future?

We will invest more in enterprise and high-end solutions. And we're going to expand sales and our marketing.

In 2008, you hired your first employee. Did it get harder or easier as you hired more employees and stopped doing everything on your own?

The moment employees were willing to step up and take responsibility on their own, then it got easier. But leading employees is difficult - that's the other side of the coin. Especially in Switzerland, where people are used to a rare luxury. Now that Swiss employees have all the material goods they need thanks to years of good economic conditions, they are striving for an optimal work-life balance - of course, this striving is carried out at the expense of the companies and especially on the backs of the smaller companies where every individual's effort counts.
Urs at the time of his founding of the company, 2004

When you look back now, would you have done a lot of things differently, or would you like to repeat that time?

I should have invested more time in sales and not waited until we were found by our customers. I was also wrong to focus on Switzerland as a location for so long. But to succeed in the Swiss market, we would have to offer our software in the three national languages - because many major customers are represented nationwide.

Urs Langmeier, thank you for the interview and congratulations on the tenth anniversary of Langmeier Backup!
Further lookup: Langmeier Backup, Urs Langmeier, Langmeier Software
Articles relevant to the topic
Langmeier Backup Version 10 is here
FAT32 or NTFS? Which format is better for backup?
Expert Tips: What is backup? Good Data Backup
This article covers:
10 Years of Langmeier Backup
Interview with Urs Langmeier
Anniversary 10 years