Jakobsoftware brings Langmeier backup software to the showroom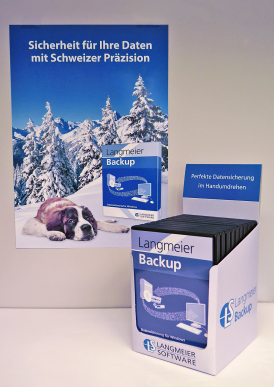 The Langmeier Backup POS package for the sales floor.
Practice shows: Many misjudge the importance of backup. Dealers can use this potential for themselves by directing the awareness of customers to the topic of backup. Jakobsoftware, value added distributor for IT security solutions, has therefore put together packages for the sales floor with the multiple award-winning Langmeier backup software. Dealers can now order the POS packages for the Langmeier Home and Advanced products. These each contain a poster as well as a counter display for ten DVDs.
Information on the Reseller Program
Jakobsoftware is the main distributor of Langmeier backup solutions for the Germany, Austria and Switzerland (DACH) region. The reseller program comprises three levels and does not require a minimum turnover: At "Authorized" status, registered resellers receive a 25 percent discount on Langmeier backup products at the suggested retail price. Levels 2 and 3 require certification, for which dealers can qualify online with little effort. The certificate is tied to an individual and is valid for two years. Depending on annual sales, certified dealers benefit from a discount of 30 or 40 percent. In addition, they receive qualified leads for further processing.
Langmeier Backup Software at a Glance

Langmeier Backup 8 Home creates validated copies of files and also backs up external hard drives and USB storage devices, designed for home use.

Langmeier Backup 8 Advanced backups the complete computer with all programs including the operating system. This variant for home users also creates backups to the Internet or to DVD and Blue-Ray media – open files are also backed up while the computer is running.

Langmeier Backup 8 Business meets business data security needswith selectable encryption levels, backup logs via email, and backup to compressed zip archives or tape drives.

Langmeier Backup 8 Server realizes the most diverse data protection concepts on clients as well as servers and enables rapid disaster recovery thanks to createable and bootable emergency media. With its high level of functionality and scalability, the solution is suitable for companies of any size.

Langmeier Backup V-flex unites data backup, replication, recovery and disaster recovery for virtual environments in one solution. Diverse and user-oriented features as well as a flexible licensing model provide resellers with technical and price advantages.
Interested parties can register for the reseller program at jakobsoftware.com. If you have any questions, the Jakobsoftware sales team is always available at vertrieb@jakobsoftware.de or +49-551-305604-33.
Save data automatically
Protect all your files.
About the Author
Urs Langmeier
, Founder and CEO of Langmeier Software GmbH
Further lookup: Langmeier Backup, Langmeier Software, Reseller
Articles relevant to the topic
Langmeier Backup Version 10 is here
FAT32 or NTFS? Which format is better for backup?
Expert Tips: What is backup? Good Data Backup
This article covers:
Jakobsoftware