External drive not ejected at end of backup?
Langmeier Backup offers the option "Eject disk at end of backup" under "Options -> Global settings -> Program behavior"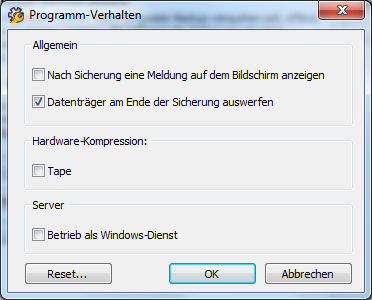 This option is for ejecting backup media such as USB, external hard drives, tapes, etc., at the end of a backup.
There is a case, however, when an external drive cannot be ejected at the end of a backup. This is the case when an external hard drive masquerades as an internal hard drive.
Both media highlighted in yellow are external media, the one on top is shown as internal media and the one on the bottom is shown as external media. The one at the bottom can be ejected at the end of the backup, but the one at the top cannot, because that disk is misrepresenting itself as an internal disk.
There's not much you can do about that, as it's up to the hardware manufacturers to set the correct property here. But a web entry you can find here points to Lexar's "Bootit" tool. This tool can be downloaded here
With this tool, you can select the external hard drive and use the "Flip Removable Bit" button. This is to create Windows to recognize the external hard drive as internal.
After unplugging and plugging in the external disk, it could be that the status then changes, but even this tool says that this only works for some media. Might be worth a try though
Format the external hard drive to "exFAT"
Formatting the external hard drive to the "exFAT" format may also help, except that this could have disadvantages in addition to advantages over NTFS and FAT32.
The advantage over NTFS is that you can skip all the security lines that can make your life difficult under NTFS, and you don't have to give up file sizes above the 4 gigabyte limit.
The disadvantage in exFAT to NTFS is that you can not install the Windows-7/Vista or Server-2008 on it and that if multiple operating systems are installed on the same machine, for example, the old Server 2000 can not access the data. For operating systems other than Windows, support is currently non-existent, or very limited.
exFAT additionally supports the ACL (Access Control List), an access control list, with which only certain users can access the files. Furthermore, it also supports various transactions that are not possible with FAT32.
While FAT is a very strong file system, exFAT does not support the ACL (Access Control List)
While with FAT32 the maximum file size is limited to 4 gigabytes, on the exFAT system even very large files with a maximum size of 512 terabytes can be used.
Save data automatically
Protect all your files.
Further lookup: Langmeier Backup, external hard drive, FAT32, NTFS
Articles relevant to the topic
Langmeier Backup Version 10 is here
FAT32 or NTFS? Which format is better for backup?
Expert Tips: What is backup? Good Data Backup