Langmeier Backup FAQ
How to: Backup fully automatically as a Windows service
Normally, Windows backup software only performs automatic backups when a Windows user is logged in. However, especially for servers and PCs used as servers, there is usually no user logged in. No one is logged in and the machine faithfully runs its Windows services. But even during these hours of operation, data worth securing is produced.
How to solve this problem? Langmeier Backup should be run as a Windows service in this case. Consequently, a backup will be executed even if the computer is running but no user is logged in. As a result, you have an automatic Windows backup or data backup.
This is how you change the operation mode of Langmeier Backup to operation as a Windows service
1.Click "Options" in the main window:

2.Click here on the "Program Behavior..." button:

3.Enable the "Run as Windows Service" option here
Backup notifications when running as a Windows service
A Windows service does not exercise any user interaction when the user is logged off. Consequently, it is recommended that you turn on the backup log in the options. Have the backup log emailed to you for active notification. Check the log regularly to ensure smooth operation of the backup, or have the person in charge check it.
Note: Prior to Langmeier Backup, version 8.0.422, no on-screen notifications of backups in progress occurred when running as a Windows service. In all newer versions, Langmeier Backup can also display backup notifications and backup status on a logged-in user's screen.
File permissions when running as a Windows service
By default, every Windows service runs under the SYSTEM user. However, a backup program often does not have sufficient permissions under the SYSTEM user to successfully run an automatic Windows backup or an automatic backup of the system, including all user data. This would require giving the SYSTEM user advanced permissions to successfully create a backup.
Solution: Open the backup job in Langmeier Backup and double-click here to open the top-level backup path in the backup job. Then enter the correct login information of the administrator user under the "Login" tab. The user information thus entered here is valid only for the current backup job: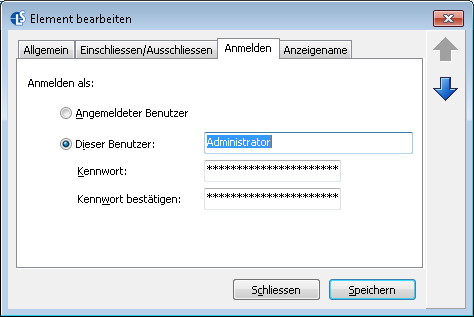 width="474" height="317" />
To save the credentials for all backup jobs, do the following
Enter the administrator's login information under Windows Service Properties. Open the Windows Control Panel, and here select "Administrative Tools" and then "Services". In the list of Windows services, right-click on the "Langmeier Backup Service" service and then select "Properties". Under the tab "Login" you will find the option to enter login information. The login information you enter here applies to all backups that Langmeier Backup performs. They become active as soon as you restart the service.
Note: Connected network drives - for example, those with drive letters X:\ - are not available in a Windows service. Network drives connected in this way are only available in a Windows service if a logon script or a script before backup takes care of the connection.
This is why: in the backup job, use UNC network paths in the form \\server name\share name instead, not network drives such as X:\.
And: When backing up to the network, you must also enter a user in Langmeier Backup's Windows service, since logonless users such as the system user (under which Langmeier Backup runs by default) cannot access network shares for security reasons. Please refer to the article "If network backup fails in automatic mode" for more information.
Domain user accounts
Domain user accounts must first be physically logged on to the computer before they can be used in a Windows service. This is because Windows will not create the necessary settings and folders for the Langmeier Backup data protection service to successfully create a backup until the user is properly logged in.
Operating Langmeier Backup as a Windows service is available in all products
Langmeier Backup 9 Professional
Langmeier Backup 9 Business
Langmeier Backup 9 Server
Langmeier Backup 9 V-flex Starter
Langmeier Backup 9 V-flex Pro
Langmeier Backup 9 V-flex Unlimited
Save data automatically
Protect all your files.
About the Author
Urs Langmeier
, Founder and CEO of Langmeier Software
Further lookup: Langmeier Backup FAQ, Windows Service, Network Backup, Network Backup, automatic backup, automatic backup
Articles relevant to the topic
FAT32 or NTFS? Which format is better for backup?
How to back up your hard drive properly and not forget anything
Expert Tips: What is backup? Good Data Backup
This article covers:
Langmeier Backup as a Service